Mark Marshall is a Lecturer in the Department of Computer Science and Information Systems and a member of the Interaction Design Centre. He is also currently a co-director of the B.Sc. Computer Games Development course taught in the department.
Prior to this he was a Senior Lecturer in the Department of Computing at Sheffield Hallam University and a Postdoctoral Researcher at the Interaction and Graphics Group at the University of Bristol in the UK.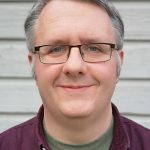 He has a background in Human-Computer Interaction and his research has focused on the development and application of novel interface technologies to new domains. This has included the creation of new interfaces for areas such as museums, medicine, education, music performance and interactive television.
He has a PhD in Music Technology from McGill University (Canada) and an MSc in Human-Computer Interaction from the University of Limerick. He has collaborated with artists, musicians, designers, scientists, heritage professionals and educators on a range of artistic and research projects exploring new ways of interacting with technology.
He currently teaches a range of modules around interaction design, digital media, 3D printing and digital fabrication to both undergraduate and graduate students.