Nicola Le Gear is Module Leader and Lecturer of 'User Experience in Practice' to 4th year Digital Media Design Students (since Spring 2020) at the University of Limerick.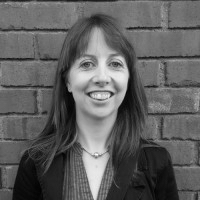 She has over 10 years industry experience. From User Experience Designer, Interaction Designer, Usability consultant, Information Architect, Head of User Experience and Digital Director. Encompassing client side (RBS Insurance / DirectLine Group, Limerick Mental Health Association) and agency side. Through her client side roles she was able to follow her designs through the full life cycle and repeatedly update and improve with real users, and data, thus becoming an expert in the customer journey and pain points. Meanwhile, her agency experience allowed her to represent a variety of brands across a multitude of industries (Lynx, Nokia, Cancer Research UK, Thames Valley Housing Project, Topshop, OMO, BDP Media, Jamaica Ginger Beer, Cornetto and Miller Insurance) . It also allowed her to experiment with cutting edge technology and tools to deliver diverse creative solutions.
Her breadth of experience in User Experience uniquely places her to confidently teach students to the highest standards. She is keen to ensure future students are as prepared for working life as they can be and feels she can impart these skills best through the module 'User Experience in Practice'.
She has 5 years experience in teaching ranging from guest talks to teaching assistant to lecturing her own modules. She is confident in providing engaging, inspiring lectures, while delivering practical skills in tutorial settings. Modules that she has delivered in the past are Interactive Media, Digital Media and Software Systems, Computing, HCI, Digital Media and Business Analysis, and an Interactive Media Workshop.
Nicola has also volunteered for Limerick Mental Health Association – a non-profit in Limerick, as both Digital Director and Board member. Here she served as a trusted advisor for all matters digital, including defining and leading the Digital Strategic Plan.
Nicola is a curious, self driven UX designer who loves nothing more than a good problem to solve. She is interested in social good, advocating UX design across all fields of work and facilitating design education. In her spare time she loves nothing more than practicing her fine art skills, particularly landscape painting.
Published Works
Quinn, N. and Aboulafia, A. 2009. Chapter: A graphics tablet as a fine art tool from Handbook of Research on Computational Arts and Creative Informatics, Information Science Reference.
Quinn, N. 2006. MSc by Research: The Role of a Graphics tablet as a Fine Art Tool, University of Limerick.
Quinn, N. and Fernström, M. 2004. A Multimodal Artistic Interface. In Proceedings of ACM SIGGRAPH 2005, ACM Press, New York, Volume 24, Number 3.
Ciolfi, L., Fernström, M., Bannon, L., Deshpande, P. Gallagher, P., McGettrick, C. Quinn, N. and Shirley, S. 2007. The Shannon Portal Installation: Interaction Design
Education
2006: M.Sc by Research investigating "The Role of a Graphics Tablet as a Fine Art Tool." University of Limerick, Ireland.
2004: B.Sc in Computer Systems (Honours). University of Limerick, Ireland.