First 7 Weeks app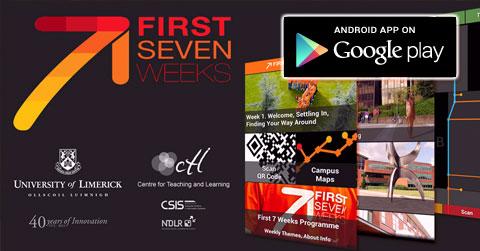 The University of Limerick's First 7 Weeks orientation programme has this year launched a new Android app and mobile website for first year students. The app and website were created by Daryl Feehely who is a research MSc student in the IDC.
Both the app and website deliver all the information about each week of the First Seven Weeks programme to students. The Android app has the additional feature of indoor maps, which provide users with floor maps of the undergraduate buildings on campus, which they can use to navigate their way inside each building. QR codes are placed in each building also, allowing the user to view their position and plot a route on the indoor map by scanning a QR code with the app.
The app and website were developed as part of a collaborative research project between the Centre for Teaching & Learning and the IDC. The research being carried out by Daryl is in the area of information delivery using mobile technology, and focuses in particular on the analysis of lightweight, self-contained, low-fidelity indoor mapping solutions. The deployment of the First 7 Weeks app will be used to gather anonymous data on how users interact with 2D indoor map interfaces, in the context of imprecision when the maps are being used to guide a user to a location rather than pinpoint a location to a user.
"This new application for first years has a dual purpose providing a service to newcomers to the campus as well as giving us the opportunity to analyse the most effective ways to deliver information using mobile devices and especially testing to see if a low-fidelity indoor map delivers sufficient information to direct a user to their destination. The First 7 Weeks programme is a natural partner to test this research with, given its goal to deliver information to first year students and help them get acquainted with the UL campus. We developed the First Seven Weeks Android app and mobile website to that end, in the hope of making the transition from school to college easier for incoming UL students, by giving them easy access to the information and campus maps on their smartphones. In conjunction with the Buildings & Estates Department we've placed QR codes around the buildings on campus. Users of the Android app can scan these QR codes with the app to view their location on a map, which will help them get to where they are going," said Daryl Feehely
The Android App is available to download on the Google Play store, and all the First 7 Weeks information is also available on the mobile website http://first7weeks.ul.ie
More information on how to use the Android app can be view in this demo video: