Interaction Design Talks: Fernando Orellana
The Interaction Design Talks series continues this semester with a talk by Fernando Orellana.
Fernando will speak about his recent artwork relating to robotics, anthropomorphism, dreams, generative art, automobiles, and Play-doh.
He was one of the artists featured during the 2nd edition of Tweak in September last year.

Currently an Assistant Professor developing an electronic art program at Union College in Schenectady, NY, Fernando Orellana uses new and traditional media as a way of transmitting concepts that range from generative art to social-political commentary. He has recently exhibited at the Carrie Haddad Gallery, Hudson, NY, Espacio Fundación Telefónica, Buenos Aires, Argentina, The Mandeville Gallery, Schenectady, NY, Exit Art, New York, New York, LABoral, Gijon, Spain, The Tang Museum of Art, Saratoga Springs, NY, Glass Curtain Gallery, Chicago, IL, The Ark, Dublin, Ireland, and The Biennial of Electronic Art, Perth, Australia.
The talk will take place this Wednesday, 3 March 2010, 2:30pm in KBG13 (Kemmy Business School), and everybody is welcome!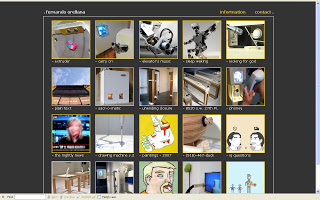 On Wednesday evening, Fernando Orellana will also give a talk at the IxDA Limerick meetup in the Absolute Hotel. The meetup starts at 7pm as usual. All are welcome!